Yoga schedule alerts
Plus a teaser for kittens and a picture of a goat!
Welcome to Volume 2 of Yoga-With-Judson Newsletters! I've moved to a new platform (substack instead of mailchimp), so if you have any automated email sorting filters set up, you may want to change them.
Most urgent is the news that there will be no Wednesday class this week (May 15th) nor on June 5th.
Next most urgent is that I'm teaching another kitten yoga class on July 7th. It's another fundraiser for Young Williams and will be at the Glowing Body. This actually isn't very urgent at all yet since signups aren't available yet. When they are, I'll let you know.
For those of you new to the newsletter, welcome! In theory, I send a newsletter out once a month, though it has been quite some time. You'll all be happy to know that I'm still teaching 5 nights a week between Bearden and the Glowing Body. You can see the full schedule at http://judsonnichols.com/yoga where I also announce snow cancellations and have directions to all the yoga studios and detailed class descriptions and even a breakdown of the basic poses I teach in case you want to use it for your home practice!
This year has been pretty slow for most of my classes. This is great news if you're the kind of person who likes to have more room to spread out, so feel free to come out and practice with us.
On Saturday, I got to do yoga with goats. That was fantastic. Okay, mostly it was just us petting goats and having goats stand on us and sit in our laps and take pictures. But there was definitely yoga in there somewhere.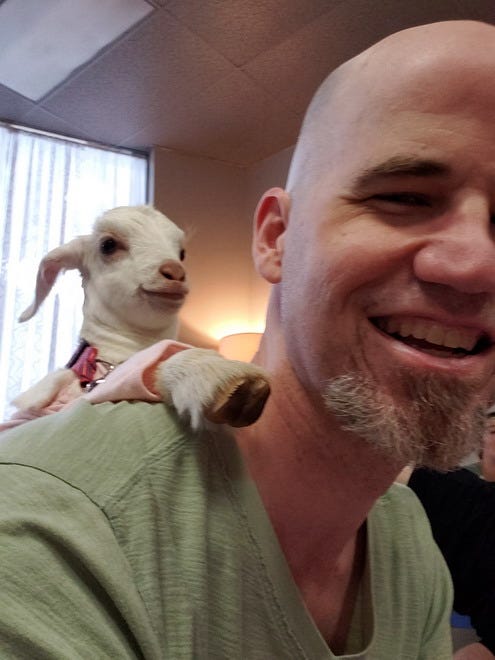 I'm going to wrap up now. There's an unsubscribe link at the bottom here, so if you didn't want to receive the messages, you can click that! But I hope you stay and share with your friends.
namaste!
judson